Lip Fillers
Professional Lip Augmentation & Enhancements
More people than ever before are choosing lip augmentation treatments to enhance their natural lips and boost their confidence. After all, your lips shape your face and thinning lips are one of the first signs of natural ageing. Therefore, if you are not happy with your lips, dermal fillers are a great way to enhance the look and feel of your face by changing the shape, size and features of your lips.
Lip sculpting is an innovative way of applying dermal filler to the components of the lip which enhances its attractive features. For example, the area in the centre of the upper lip can be accentuated to "show off" the cupid's bow, and the volume of your lips can be changed to appear fuller and more luscious.
You should always be aware of amateur injectors who simply augment the lips (fill them up) without being mindful of the lip anatomy! This is because the lips have a specific contour and if they are carelessly filled up they may appear unnatural.
Lip Filler Benefits
In recent years, lip augmentation treatment has continued to increase in popularity as more people than ever before recognise the many benefits that come hand-in-hand with dermal lip fillers.
Benefits include:
Enhanced appearance of the lips
Make the lips appear fuller
Little to no side effects
Allows patients to gradually increase the fullness of their lips
Recovery is fast
A non-invasive procedure
Cost of Dermal Fillers Treatment
The cost of lip filler treatment in the UK varies massively depending on how many lip filler injections you need, the type of product used, as well as the practice you choose to complete your procedure. As a general rule of thumb, you can expect to pay anything from £300-£1500.
Why Trust Dentists with Lip Fillers?
If you are considering non-surgical lip augmentation, you should always opt for a practitioner with the relevant training and experience.
For example, dentists are a great option as they are not only medically trained to deal with any complications during the procedure but also undergo dedicated training when it comes to understanding the core components of the maxillofacial area.
Here at Boutique Dental, we offer a wide range of lip fillers and enhancement treatments, at our state-of-the-art clinic in Wigan. Contact us today to find out more about our lip filler treatments.
Read our latest article:
Get Perfect Lips Today!
We are specialists at designing the perfect lip! Book an appointment today.
Lip Filler Before and After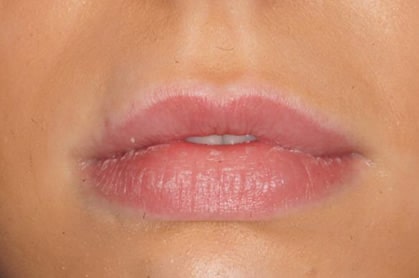 Lip Enhancement Treatment FAQs
How do lip fillers work?
Lip Fillers is a type of aesthetic treatment that are injected into different parts of the lips to enhance the appearance of lips to, to look more volumized, make them symmetrical, and change their shape.
Are lip fillers safe and does it hurt?
Lip fillers are generally safe. However, it's essential that they're only performed by medically qualified practitioners like us.
How long does the lip filler treatment take?
The lip filler injection usually just take around 15-20 minutes to be administered.
What is the recovery time after lip enhancement?
Because lip filler procedure is minimally invasive, there's no downtime. While side effects like redness and swelling might last for a few days, you can function as normal after your procedure.
How long do lip fillers last?
The procedure is not permanent and you will need to get future appointments to maintain it. It typically lasts for 6-12 months before they'll need a top-up.
Can I eat or drink after lip fillers?
Yes, keep hydrated by drinking lots of water after the treatment.
How long does it take to settle?
It can take around four to six weeks for the lips to take and achieve their final look.
How to prepare for lip fillers?
If you are considering lip fillers, it's important that you prepare your lips beforehand in order to get the best results!
For example, before lip fillers you should:
Avoid dental procedures or cleanings 2 weeks prior and 2 weeks after filler injections
Avoid waxing, bleaching and tweezing!
If you have an active infection such as acne or a cold sore, you should wait until these have cleared up first
Always share your current medications and supplements before your treatment
Share your history of allergies – this is super important!
A few days before getting lip filler injections, you should avoid taking aspirin, Vitamin E, ibuprofen, or fish oil supplements.
Avoid alcohol the night before your lip filler treatment
Do lip fillers look obvious?
This all depends on the look you are hoping to achieve from your treatment. For example, some people prefer a noticeable look when enhancing their lips and other people opt for a more natural look.
Ultimately, your lip fillers should enhance your natural lips based on how you want them to look.
Do lip fillers damage your lips?
Yes, before opting for this treatment, you should be aware that too much lip filler can permanently stretch your lips, meaning it will be difficult to dissolve your lips back to their natural form. However, it is possible to perform surgery to remove excess skin from the lips in extreme cases.
Does 1ml lip filler make a difference?
It's not a case of one size fits all when it comes to lip filler treatments. For example, whether or not 1ml of lip filler will make a difference to your lips will depend on the size of your lips before your treatment.
The vast majority of clients opt for between 0.7ml and 1ml of filler however, if you want to enhance your lips so that they are noticeable, you should consider 1ml of filler. Remember, you can always add more filler later down the line, so if you are nervous or unsure whether you will like this treatment, it's always best to start small.
Can you notice 0.7 lip filler?
Yes! In fact, 0.7ml of filler is a great introductory amount for first-time lip filler clients looking to enhance their natural lips. The results are not major however, they are still noticeable. Oh and remember, once the swelling has settled, you can always consider getting more.
Can lip fillers ever look natural?
Yes, the right amount of lip filler can give you a natural-looking result that will enhance the natural look and feel of your lips.
Do lip fillers change your smile?
Lips fillers are designed to enhance the natural look of your lips and smile by modifying the shape of your smile, defining your cupid bow, and of course, creating more asymmetry around your mouth.
Should I get 1ml lip filler first time?
If this is your first time getting lip fillers, professionals always recommend getting 0.05ml first in case you are not happy with how your lip fillers look on your face. If you know that you want to achieve a dramatic and full lip, you should opt for 1 ml of filler.
How often do lip fillers need topping up?
In order to maintain your desired size, the vast majority of patients have a top-up procedure every 6-12 months. Of course, this depends on the results you want to achieve, your age, lifestyle and how well you look after your lips post-treatment.
How long after lip fillers does swell start?
Once you have had your lip fillers, you can expect swelling to last anywhere between three to five days. Once the swelling has subsided, you will then be able to enjoy your results. If you experience extreme swelling that does not subside by day five, you should then consult your doctor or your treatment provider.
How long are lips bruised after filler?
As with any bruising after a dermal filler treatment, you can expect bruising to last anywhere between five and seven days. With this in mind, if you have an important occasion or event in the pipeline following your lip filler procedure, you should take into consideration that bruising could be an issue.
How long do lips hurt after filler?
Many clients report feeling pain 12 to 24 hours after their procedure however, in some cases, pain can last up to a week.
Can lip fillers be reversed if I don't like the results?
It is possible to reverse the effects of lip fillers by dissolving the lip fillers using injections of hyaluronidase. Hyaluronidase is a concentrated synthetic which breaks down the filler and speeds up the dissolving process.
Can lip fillers be used in conjunction with other cosmetic treatments?
Yes! Dermal fillers can be used in conjunction with a vast range of other cosmetic injections.
Are there any risks associated with lip fillers?
Like any cosmetic treatment, there is some element of risk involved in getting lip fillers however, serious side effects are incredibly rare but should be considered.
For example, in rare cases, infections can occur and lumps can form under the skin.
How much do lip fillers cost?
In the UK, lip fillers can cost anything from £215 to £1500 however, you can mostly expect to pay around the £170-£250 mark.
Please complete the form below for a Call Back.