Repair and restore your dazzling smile with composite tooth fillings.
What are composite fillings?
Over time, your teeth can become effected by decay, cracks, chips or fractures. Composite fillings are a natural looking, tooth coloured filling that is used to repair the effected teeth, restoring your beautiful smile and giving you an instant confidence boost.
Although often referred to as 'white fillings', composite fillings are in fact matched closely to blend seamlessly with your natural teeth. They're a particularly popular option if your filling is visible when you talk, laugh or smile.
Composite fillings are made from powdered glass and plastic, providing you with brilliant durability and resistance to further fractures. They can be used on either the front or back teeth, making them an excellent choice no matter the location of your effected teeth.
What are composite filling treatments used for?
Composite fillings are one of the most extensively used filling types available, due to their durable nature and natural colouring. They can be used to help treat a wide range of dental concerns such as:
Decayed teeth
Chipped teeth
Cracked teeth
Worn teeth
Broken teeth
Closing gaps between two teeth
Tooth erosion
Composite fillings require very little removal of the existing healthy tooth structure, ensuring you retain as much of your natural tooth as possible.
Read more about the Composite Fillings in our recent article.
The Composite Fillings Process Explained
During your free consultation, one of our expert dentists will talk to you about your individual concerns and how composite fillings can help. They will discuss the treatment options and confirm your eligibility for the treatment, and at this stage will discuss pricing options and the cost of the treatment.
Consultation appointments generally last around 15 minutes.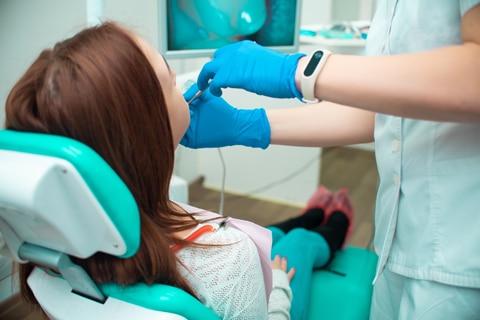 During your examination appointment, your dentist will look at the current state of your teeth, taking photos, X-rays and digital scans or a dental impression of your teeth to ensure your composite fillings are expertly crafted to blend seamlessly with your natural smile. A personalised record will be created along with a tailored treatment plan.
Examination appointments typically last around 30-40 minutes.
The process of placing your composite fillings is typically done within one appointment, saving you time and meaning you can show off your dazzling new smile as soon as you step out of the door.
The area around your effected teeth will be numbed, and our expert dentist will remove any decay or additional tooth surface if needed. The tooth will then be thoroughly cleaned and prepared before the filling is placed.
The filling will be places, shaped and polished to perfection, ensuring it blends perfectly with your existing teeth for a natural smile and restoring your tooths shape and durability.
Your dentist will provide you with full aftercare instructions for how best to look after your composite fillings to ensure maximum longevity.
If you're in need of a dental filling in, you've come to the right place!
Feel free to speak to one of the friendly team at Boutique Dental for a call back!At our practice, we take your concerns seriously. 0% Interest Free Finance for 6,10, & 12 Months is available please contact our reception team for finance applications and more information.
How long do composite fillings take to set?
Composite filling takes about 24 hours to completely harden and reach maximum strength. We highly recommend to wait for at least 24 hours before chewing on the side of your mouth where the filling is located.
What are the advantages of Composite Fillings
They look more aesthetically pleasing since they match your natural tooth color and appearance. It also supports the remaining tooth structure which helps possible breakage.
What are the disadvantages
Composite fillings, just like your teeth, are prone to staining or deteriorating when they are put through extreme circumstance like grinding. You may also experience brief tooth sensitivity after the procedure.
What can you not do after a composite filling?
Avoid any chewing and hot beverages until the numbness has completely worn off. We recommend soft foods and liquids on the day of your composite filling—avoid anything hot. Also be sure to drink plenty of fluids as well.
How long does composite fillings last?
Composites last 7-10 years with proper care and maintenance.
Please complete the form below for a Call Back.