Perfect Smiles with Composite Bonding Wigan
Keep all your own healthy teeth but still achieve your perfect smile with no need for drilling.
What is Composite Tooth Bonding
Composite Bonding, or Dental Bonding is used to refine and alter the shape of your own natural teeth, without the need for drilling. Composite Bonding is a cosmetic procedure that uses a tooth-coloured resin which is applied to the tooth to repair chipped teeth or improve the shape of a tooth and also restore its original appearance. The resin during the treatment is bonded, polished and shaped to match your own teeth , so you get your own unique perfect smile.
Problems that Teeth Bonding can address:
Reshape the tooth
Slightly shorter teeth
Slightly misaligned teeth
Chipped or slightly damaged teeth
Gaps in your smile
Discoloured teeth
Dental Tooth Bonding can be added into a Smile Makeover Treatment plan or along with Invisalign and teeth whitening.
Dentist Explains: Are Composite Veneers The Same As Teeth Bonding
This is the common question we always get from the patients. The material used for composite veneers and bonding is the same which is the composite resin which directly bonds with the tooth surface. The only difference about it is the application procedure.
A dental bonding treatments cover a part of your affected tooth whilst composite veneer covers the entire surface of your tooth making it look like a new tooth.
Read more about the Composite Bonding in our recent article.
Ready to book a cosmetic consultation or have questions to one of our dentists? Contact us today.
The Dental Bonding Process Explained
During the FREE consultation the dentist will have a chat about what treatments you are interested in. They will talk you through the different treatment options and will confirm your eligibility for the treatment. Cost of the treatment will also be discussed. This appointment will last 15 minutes.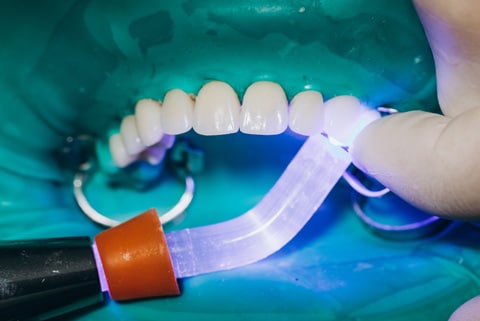 To prepare your tooth for bonding treatment, your dentist will take photos, X-rays and digital scans, or a dental impression, of your teeth. These records will be used to create a treatment plan, tailored for you. You may be given a bleaching kit at this appointment if appropriate. The best thing about composite bonding dental treatment is that you can have it done all on one day after your examination! This appointment will last 30-45 minutes.
The best thing about composite bonding dental treatment is that you can have it done all on one day after your examination!!
First of all you will decide if you are happy with the shade of your teeth. If you wish to whiten them , you will be given a Boutique Whitening kit with custom trays to whiten your teeth for 2-4 weeks at home. Your cosmetic dentist will match the correct resin colour to match the colour of your natural tooth. Next is we will roughen the surface to be treated and bonding liquid will be put onto the tooth. A tooth-coloured putty-resin will be moulded into shape and hardened with UV rays. The bonding will then be trimmed to polish and match the tooth surface.
Dental Bonding Aftercare
One of the major benefits of composite tooth bonding is that it is not costly and an uncomplicated dental procedure. We advise you to take extra care when eating during this time until you are used to your new smile. You can brush and floss as normal after the procedure.
Consultations for Composite Dental Teeth Bonding are FREE.
0% Interest Free Finance for 6,10, & 12 Months is available for composite bonding treatment. Contact our reception team for finance applications and more information.
Composite Bonding Treatment Before and After
What is the difference between dental bonding and dental veneers?
Dental bonding is a tooth coloured resin bonded onto the tooth which is used to change the shape of the tooth , this treatment require no drilling . Dental veneers is a material placed over the tooth , a small amount of drilling is required to prepare the tooth. Veeners can change the appearance and colour of the teeth. We have created a separate blog about the difference of composite bonding and veneers. Read it here.
How many sessions does dental bonding require?
Dental bonding can be done in one session.
How do you care for your teeth after dental bonding?
Regular check ups, a bonding polish once per year and retainers worn each night.
Can I eat straight away?
Yes, you can eat or drink straight away. However, you may experience some slight tooth sensitivity to heat and cold after teeth bonding treatment.
How long does composite bonding last?
Dental bonding can last up to 10 years.
Please complete the form below for a Call Back.