Lip filler is an aesthetic treatment that is injected into your lips for an enhanced appearance. Following your natural lip contour and lip anatomy, lip filler is an innovative way to enhance your features.
Through lip filler treatment, lips can look fuller, increasingly symmetrical, and volumized.
When performed by a medically qualified practitioner cosmetic lip fillers is a safe and effective procedure.
Why have cosmetic lip dermal fillers?
Lip sculpting is a popular treatment that accentuates thin or tight lips by using filler.
People may choose dermal lip filler to enhance natural features, accentuate the Cupid's bow, add volume and restore the appearance of lips.
How to care for your lips after dermal filler injections
Lip augmentation is a straightforward procedure that requires minimal downtime so you can get back to your daily activities quickly after treatment.
However, as with any injectable treatment, there are some aftercare steps that can help maximise results and minimise side effects.
Lip Fillers: Do's
✓ Keep hydrated by drinking lots of water after the lip filler treatment
To get the best possible results from your lip filler it is important to stay hydrated. Drinking lots of water after your treatment helps to enhance the volume and longevity of your dermal filler.
✓ Apply ice to reduce swelling
After your lip filler treatment, you may experience some swelling or bruising around the site of the injection. If this occurs, apply ice to the swollen or bruised area using an ice pack or ice cube. Ensure the ice is covered with a thin cloth so it doesn't stick to the lip.
Lip Fillers: Don'ts
✗ Drink alcohol
Alcohol after lip filler injections increases the likelihood of swelling and bruising and can also cause inflammation. By avoiding alcohol for at least 24 hours after your appointment you minimise the risk of side effects.
✗ Take blood-thinning pain relief
Pain relief such as ibuprofen and aspirin are blood-thinning medications that should be avoided in the days following your lip filler procedure. These medications increase the risk of bruising and swelling. Ask your doctor on the day of treatment which pain medications are okay to take if required.
Cosmetic lip filler injections healing time
Due to its non-invasive nature, lip filler does not require any period of downtime. In the days immediately after the lip filler enhancement, you may experience redness, swelling, or bruising that may last for a few days.
However, after the procedure, you should be able to continue as normal and get back to your daily routine.
How long does it take lip filler to settle 
You will see immediate results from lip filler but once the swelling reduces the overall appearance of the lips may look more subtle.
It takes around four to six weeks for the lips to take and achieve their final look.
How long do lip fillers last
Dermal lip filler is not a permanent treatment and will require future appointments to maintain your desired look.
Typically, lip filler lasts between six to 12 months before you will need a top-up appointment. Read more about the longevity of lip fillers here.
How to know if lip fillers results went wrong
When performed by a medically qualified professional lip filler is a reasonably safe procedure.
But if performed by an amateur injector, lip filler may cause your lips to become lumpy, uneven, and have an unnatural appearance.
Common signs that lip filler has been injected incorrectly include lumps on the surface or inside of the mouth, an asymmetric appearance, persistent puffiness, and continuous pain.
Final thoughts
Lip dermal filler injections are a quick and non-invasive procedure that requires minimal downtime. It is a safe and effective treatment when performed by a certified nurse or doctor.
By following aftercare tips and being aware of common side effects, you will be well-informed about how to maintain and prolong the life of your lip filler.
Boutique Dental 23 specialise in designing the perfect lip. If you are considering lip dermal filler treatments and would like more information about the procedure, get in touch with them today.
Lip Filler Treatment – Before | After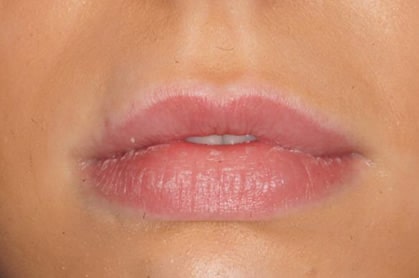 Lip Filler Treatment: Before | After