Contents
1. What Are Dermal Facial Fillers?
2. What Areas Can Be Treated with Dermal Fillers?
3. Who Is a Good Candidate for Dermal Fillers?
4. Dermal Filler Options
          4.1 Restylane
          4.2 Radiesse
          4.3 Sculptra
          4.4 Bellafill
5. Factors that Affect the Longevity of a Filler
6. Which Filler Option is the Right One for You?
Dermal fillers are used to shape and rejuvenate the skin on your face, lips, or hands. They are becoming an incredibly popular treatment when it comes to enhancing your appearance, improving definition, filling lines, and plumping out skin that is sagging.
Many people choose this treatment to achieve a subtle rejuvenation that will boost their confidence and improve how they look and feel. After all, when you feel great, you are more motivated to achieve your goals and live life to the fullest.
But how long do dermal fillers last? We've created a guide outlining everything that you need to know.

What Are Dermal Facial Fillers?
Dermal fillers are used to carry out a number of aesthetic treatments. They are injected into the skin of your face, lips, or hands in order to improve definition and plump your skin. Many people turn to dermal fillers in order to prevent the signs of aging as they can be used to fill deep folds and wrinkles.
Dermal fillers consist of a soft injectable gel that features non-animal hyaluronic acid. Closely resembling hyaluronic acid which exists naturally in the body, these fillers work by boosting the skin's supply of hyaluronic acid.
Hyaluronic acid is a sugar molecule that exists naturally in the body. It binds water in order to form a shock absorber in all movable parts of the body.

What Areas Can Be Treated?
A number of different areas of the body can be treated with dermal fillers, including:
Volumise lips
Fill in deep wrinkles and lines
Plump cheeks
Reduce the appearance of scars
Reshape the chin
Reshape the nose
Eliminate marionette lines & nasolabial folds
Who Is a Good Candidate for Dermal Fillers?
If you're considering dermal fillers, it's not only important that you are fit and healthy, but it's also important that you meet the following criteria if you want to get the most out of your treatment.
Physically healthy and well
Non- smoker
You want to correct severe folds without surgery
Have realistic goals in mind for the improvement of your appearance
No history of extreme allergies
You are committed to maintaining good skin health
Both men and women are good candidates for dermal fillers, especially if they have one or more of the following concerns:
Thinning or sunken cheeks caused by a loss of volume
Lines around the mouth
Minor nose deformities
Deep nose-to-mouth lines
Thin or unevenly shaped lips
A receding chin
Dermal Filler Options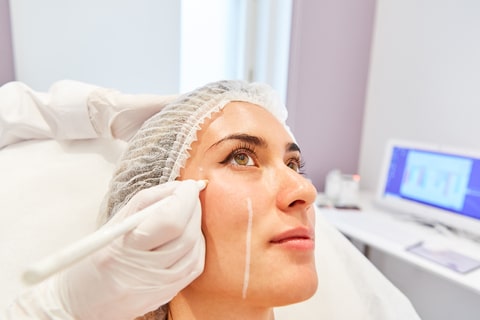 There are several different types of dermal fillers. The most common types are:

1. Restylane
Restylane is incredibly popular and is designed to soften the appearance of moderate facial wrinkles. It is particularly good at improving areas such as the nose-to-mouth lines, marionette lines at the corners of the mouth, and smile lines.
How Long Does it Last?
Restylane dermal filler lasts anywhere from 6 to 18 months.

2. Radiesse
Radiesse is renowned for stimulating your body's natural collagen, making it perfect for filling in wrinkles, whilst helping your skin develop new collagen in the process. Known as a long-lasting treatment that contours, lifts, and volumises, this treatment is widely used to treat the crinkly skin and folds around the mouth and nose.
How Long Does it Last?
The results of this dermal filler last roughly 15 months.

3. Sculptra
Sculptra is a highly effective volumising filler that can optimise the production of new collagen and restore fullness. It is also an effective treatment for minimising medium to deep facial grooves, such as smile lines, marionette lines, nasolabial folds and chin wrinkles.
How Long Does it Last?
Sculptra has several and can last for as long as five years.

4. Bellafill
Bellafill is a cosmetic dermal filler that is mostly used to improve the appearance of crinkled skin and correct facial contours in order to achieve a more youthful appearance.
How Long Does it Last?
Bellafill is a long-lasting anti-aging injection that is capable of smoothing away the appearance of wrinkles for up to five years.

Factors that Affect the Longevity of a Filler
There are a number of different factors that affect the longevity of filler, including the following:
Where the filler is used on your face
How much dermal filler has been injected?
Your stress levels
UV exposure
The speed at which your body metabolises the filler material
The condition of your skin
Which Filler Option is the Right One for You?
The dermal filler that is right for you will depend on the treatment you want and the desired results you want to achieve.
During your initial consultation, your aesthetic doctor will discuss all of your options and ensure that you choose the right treatment for you.
Read related article: